A Town For All Seasons
Llandudno is one of the most visited and popular tourist locations in North Wales, and it is easy to see why. There is always plenty going on in this seaside town, what makes it so special is the amount of things to do all year round. From Spring to Winter, you can always expect a fantastic trip at Llandudno, here are some enjoyable activities you can experience during each season. It is worth noting that some of these activities are available all year round, not just during the particular season mentioned.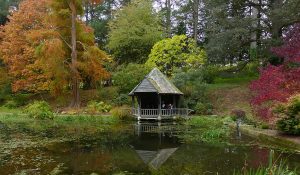 Spring
During Spring, when we are starting to see the beginnings of some nice weather again, Llandudno really does come to life. There is so much that you can enjoy in the area this time of year.
Extravaganza 
A day written down in most local Llandudno residents' diaries is the famous and popular Extravaganza, which takes place every year. This event really captures just how busy and enjoyable Llandudno can be at this time of year. At the Extravaganza, you can expect to see many fun rides and activities, perfect for a day of family fun. If you are visiting and looking for an event which will be fun for the whole family, make sure you come to Llandudno and experience the Extravaganza for yourself. 
Bodnant Garden
Bodnant Garden is one of the most beautiful and relaxing places to visit in Llandudno. You can take a truly incredible walk through verdant woodland, stunning lawns and massive terraces, which are filled with some of the most spectacular plants. Bodnant Garden is a must visit location in North Wales, it is the ideal location to relax and forget about your worries. If you are visiting and have dogs with you, From 1 April – 30 September, Bodnant Garden is open for dogs to enjoy the area. 
Three castles Rally
Are you someone who enjoys thrills and excitement? The Three Castles Rally is an exhilarating event which takes place every year and runs through Llandudno. If you are a car enthusiast, you will not want to miss these cars racing through the beautiful landscape. The rally lasts three days, and is over 500 miles long. In 2022, the rally will be held from June 7th – 10th, so make sure you do not miss the opportunity! 
Wales Spring fair 
The Wales Spring Fair is again an event which occurs every year In Llandudno. In 2022, the fair will be held in Venue Cymru and will take place from the 3rd April – 5th April. The fair is Wales' Premier Craft & Home Trade Show, and has gained quite the reputation for its innovative products from across the whole of the UK. Visitors and buyers will have the chance to see all the new and latest products on offer from suppliers. The event has been hampered by the Covid-19 pandemic over the last couple of years, so make sure to attend with little to no restrictions now. 
Great Orme copper mines
 A staple of the incredible history within the town of Llandudno, The Great Orme Copper Mines – (internal link), offer an ideal cultural and historic day out. Uncovered in 1987, The mine dates back to over 4000 years ago, and is considered to be the largest prehistoric mine discovered so far in the world. You are able to explore the mines and witness the work of ancient British people, the site is even dog friendly if you have one with you. The underground mines usually take around 45 minutes to explore, and you can find admission prices on their website. 
Summer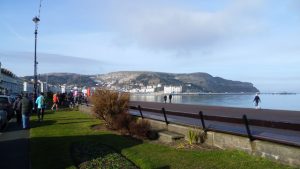 Perhaps the busiest period of the year and season, Summer finds Llandudno rife with activity and things to do. Tourists flock from all over the world to visit Llandudno this time of year, proving just how great and popular the location is during the Summer. 
One of the biggest reasons why Llandudno is so popular at Summer time, is due to the incredible views and scenery you can witness during nice weather. A great way to truly take advantage of the picturesque landscape is to embark on some of the walking routes available across Llandudno. Some popular routes include walking up The Great Orme, where once you reach the summit, you can expect panoramic views of the stunning landscape, perfect for impressive photography opportunities. 
When you think of summer, what do you imagine? A family fun day out at the beach with friends and family? Well Llandudno certainly will not disappoint you if this is the case. There are multiple beaching locations across Llandudno, these include West Shore, North Shore, and Angel bay, each offers plenty of enjoyment. Llandudno Pier is located on the North Shore and is full of family friendly activities to enjoy, get up your usual beaching ventures such as kite flying or building sand castles. 
Llandudno Swimming Centre
 Llandudno Swimming Centre is an ideal location if you are looking to cool down on a particularly hot summer day. This very modern swimming centre contains a 25 metre, 8 lane competition pool, as well as a 20 metre, 4 lane training pool. You can book a variety of swimming sessions and activities, including swimming lessons for all ages. The centre also contains a gym, often people like to work up a sweat in the gym, and then take a dip in the pools to cool off. 
Llandudno Promenade and Pier
Some of the busiest and crowded places in Llandudno during the Summer, are along Llandudno Promenade and Llandudno Pier. Here you'll find hundreds of tourists and locals enjoying a walk with an ice cream, or playing at the arcades, where so many precious memories can be made. A day out to the pier and promenade is great for children, and there are plenty of places to grab something to eat. Why not enjoy some fish and chips on the promenade, or visit a number of different cafes for a bite to eat, but be careful of the Seagulls !
Bodafon farm
Bodafon Farm offers somewhere a bit more different to visit rather than your typical summer activities. They are a genuine farm which is open to the public and offer great family friendly activities. Bodafon farm is home to the Owls Trust, where you can take a look at their large collection of Owls. You can even feed their Goats, Deer and Llama. Tractor and trailer rides around the farm are also available, brilliant fun for children. There is also a mini play area filled with mini tractors for children to play on. Bodafon Farm can be booked for childrens parties or for events, they have a bar and a cafe making the location great for these services. 
Great Orme Tramway and cable cars
If the Summer heat is getting too much for you, why not take a seat and relax on the Great Orme Tramway and Cable Cars. The purpose of these activities is for you to sit back, relax and take in all the incredible views and scenery that Llandudno has to offer. The cable car ride offers the longest passenger cable car system in Britain, and the tramway takes you all the way to the summit of the Great Orme. 
Autumn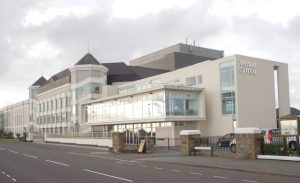 Although maybe not as busy as the Summer months, Autumn time is still very popular with tourists, and there are still plenty of things to do if you are visiting Llandudno this time of year. As the weather starts to depreciate, you can take advantage of more warmer and indoor activities to keep you out of the cold. 
Halloween 
Halloween is an Autumn holiday much loved and celebrated, in Llandudno you can find some spooky activities to take part in to get you into the Halloween spirit. There is a ghost hunt at Penhryn Old Hall in Llandudno around halloween time. So far in 2022 there has been one held in April, and there is another Ghost Hunt held on 22nd October. Penhryn Old hall has a very interesting haunted history. 
Goldwing Light parade
The Goldwing Light Parade is a yearly event held in Llandudno, which sees 150+ Honda Goldwing Motorcycles displayed on Llandudno Promenade in September. The display takes place from 10am – 4pm and then the motorcycles embark on a 45 minute parade, showing off their light displays creating quite the spectacle. 
Venue Cymru Shows
Visiting Venue Cymru is a fantastic way to get away from any cold and miserable weather, you can find a variety of different shows to enjoy for everyone including children. Some popular shows performed around Autumn time include Mamma Mia, and What's Love Got To Do With It. 
Winter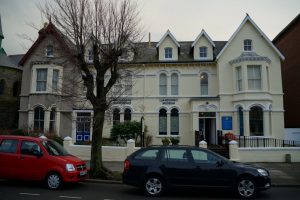 Llandudno in the Winter months can offer you a mix of ways to stay away from the typically bad weather, if you are visiting this time of year. 
Get away from the bad weather 
If you are looking for some ideas in Llandudno that don't involve being outside in the horrible winter weather, then look no further. Firstly, why not book tickets to see a show at Venue Cymru. This can be a great family friendly activity, and you can take a look on their website to see which shows are available around this time. There are also attractions such as Llandudno Museum, where you can indulge in some culture and history, and also learn something new. Why not book a table at a number of different restaurants in Llandudno, this will keep you inside and your stomachs full. Some popular restaurants in Llandudno include The Cottage Loaf, or Snooze. 
Christmas Markets
What better way is there to get into the Christmas spirit, than to visit Christmas markets. The Llandudno Christmas markets allow you to browse through a number of food, drink and gift stalls at this special time of year. Find some excellent gift ideas for your friends and family, and get into the Christmas spirit !
Llandudno 5k santa dash
Something sure to raise your spirits is the annual 5k Santa Dash along the beautiful North Shore. Take part in the run, or simply watch on as hundreds of people dressed as Santa run along in the cold winter weather. Each contestant receives their very own Santa costume, and you can register for the run at the pier from 9:00am, bearing in mind the race starts at 10:00am.