---
---
The Great Orme – The Mining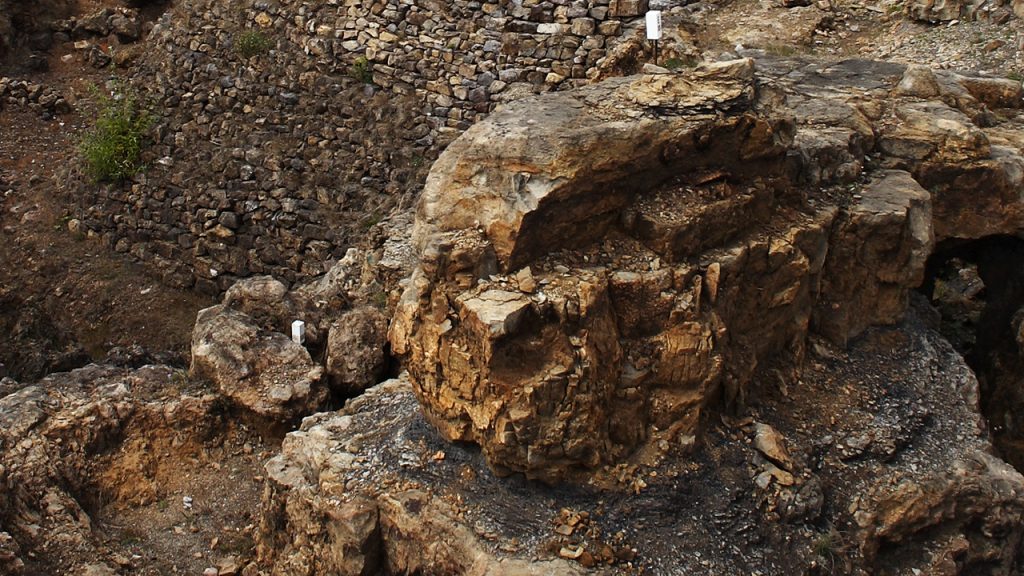 © Ted and Jen - Great Orme Copper Mines (from 2,000 BC) 



Much of the surface area of the Orme bears testimony to man's constant search for metallic ores. The Bronze Age Mining Centre is built on the spoil tips left by the copper mining industry of the nineteenth century. These spoil deposits obscured the evidence of prehistoric mining activity which has only recently been recognised. In 1988, Duncan James, a keen mine explorer and amateur archaeologist, obtained a carbon fourteen date of 1100 BC on material recovered from the old mine workings and firmly established the existence of Bronze Age mining on the Great Orme. Today the Bronze Age Centre is one of the most important prehistoric mining sites in Europe and will provide research for archaeologists well into the next century.
The scars of nineteenth century mining are manifest on both sides of the road from the summit down to the halfway tram station. This is the area one referred to as, "California Cymru", the Welsh California. In the eighteen forties, a rich vein of copper was discovered almost at surface level. Local miners were quick to exploit the find and dug a series of bellpits on the surface to extract the ore. The remains of these pits are still evident and they bestow cratered appearance to the site.
More conventional methods were also employed. Shafts were sunk, and inclined levels driven. Although many of these no longer exist, five well preserved and capped shafts are to be found in the area. Two of these Treweeks and Romans, are situated on the upper side of the tram track, an are covered with stone structures incorporating bat grills which allow the present incumbents to come and go as they please. Two further shafts, Pylla and Owen's, are to be found near the road running past Pyllau farm. These are less spectacular and could easily be mistaken for roadside inspection chambers. The fifth, Vivians or Copper Ddu (Black Copper) is situated in the Bronze Age centre. This shaft provided the initial gateway to the prehistoric workings when Great Orme Mines commenced operations in 1990.
Much of the area is covered in mining spoil of indeterminate depth, which obliterated the surface features in its path. A nineteenth century account mentions Llwynhelyg, the home of Robert Edwards which had to be abandoned as it became overwhelmed with the excavated waste.
Archaeological evidence backed by several carbon fourteen dates confirm Bronze Age mining. The history of the industry in the nineteenth century is well documented and much visible evidence remains. Very little is known of the huge span of intervening years. Could some of the answers lie under the spoil tips?
---
Reproduced from the booklet
'The Great Orme Llandudno's Mountain' by P. Bardell and T. Parry.
Illustrations by E. Parry