Locations To Visit In North Wales
North Wales is one of the most popular tourist attractions in Britain, this is mainly down to the incredible landscape and beautiful towns located within the region, which make fantastic holiday destinations. There are so many great places to visit, with tons of activities and things to do for you and your family. 
Colwyn Bay

Colwyn Bay is one of the most popular tourist destinations in North Wales, and it is easy to see why! Colwyn Bays seafront has been completely transformed under recent renovation, which has made a huge difference to the already well liked town. 
Beach Renovation 
Recently, Colwyn bay has experienced a massive change with a completely new beach. This was done under the arrival of the Porth Eirias development. This new beach renovation has seen a boom in watersport activity for any adrenaline seekers out there. You can also have plenty of family fun doing the usual beaching activities such as kite flying and building sand castles.
Welsh Mountain Zoo 
Are you an animal lover? Or have an interest in exotic animals ? Why not visit the Welsh Mountain Zoo. You can find animals from all over the world, including snow leopards and Sumatran Tigers. The zoo is a great family friendly activity, or an ideal location if you are looking to take a date. You can find pricing and opening times on their website. 
Colwyn Bay promenade
Colwyn Bay Promenade is located on the newly renovated beach, and has plenty of fun-filled activities. Grab an ice cream and enjoy a stroll on a hot summer's day or for a romantic evening walk, and take in the beauty of North Wales. 
Parc Eirias 
If you're traveling to Colwyn Bay, you must visit Parc Eirias. Parc Eirias contains 50 acres of parkland, including a pond. There are also exciting indoor activities at Parc Eirias including a swimming pool, and a fitness suite. The complex also contains Eirias Stadium which is used as the home for sports including rugby and football. 
Conwy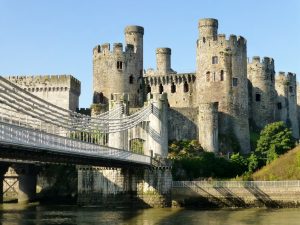 Conwy is a seaside town famed for its history, incredible scenery and popularity with tourists all around the world. The town keeps tourists coming back all year round, especially during summer, due to its historical features, fun filled activities, great places to eat and much more. 
Conwy Castle  
Perhaps Conwys biggest feature and tourist attraction is Conwy Castle. The fort has been standing for over 700 years, built back in 1283. The famous monument is open for tourists to visit, and its famous walls which encase the town. You can find multiple entry points to the walls, and once up there you can do a full circuit of the town experiencing tremendous views. 
Smallest House in Britain 
Located on Conwy Quayside, you can find the smallest house in Britain. The red house is just 72 inches wide, by 122 inches high. The house is now a tourist attraction where you can take a look inside. The last person to live in the house was a fisherman who was 6ft 3!
Mussel Museum  
Wales is famous for its food and local delicacies, and Conwy has its own famous food loved by the locals. When visiting Conwy you will often hear people discussing 'Conwy Mussels', and you can find the Mussel Museum on the quayside containing all the information and history about them. These mussels, due to the way they are left to grow naturally before being farmed, are truly delicious. You can find them on menus all over the Conwy region, but only during certain points in the year. As the saying goes with the locals – "during months that contain the letter R". 
Conwy Quay 
Especially during busy periods in the year, you can find tourists and locals flocking down to Conwy Quay to enjoy a day out. On the quay you can grab yourself an ice cream and take a stroll along the Marina or beach. There is also a pub called the Liverpool Arms with an outdoor seating area, which you can expect to be busy on hot days. Towards the back end of the Quay, you can find an entrance leading to the takeaway section of a popular local fish and chips shop called The Fishermans. Fish and chips on the quay is a great lunch idea and a tradition with the local Conwy residents. 
Betws-Y-Coed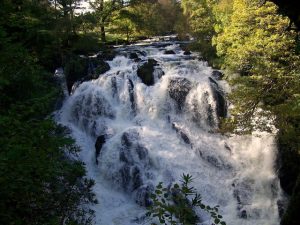 Are you someone who loves the outdoors? Well Betws-Y-Coed is every outdoor and walking enthusiast's dream. The town is full of outdoor and walking shops for you to stock up on any gear that you need. These include Trespass, Rohan Betws-Y-Coed, and Cotswold Outdoor. Betws-Y-Coed will have you stunned at its natural beauty and features. You can experience many walking trails which will take you along the gushing river, and many fantastic local pubs and restaurants. 
Zip World Fforest 
Betws-Y-Coed is home to one of the popular Zip world sites called Zip World Fforest. Zip world and its sites are some of the biggest tourist attractions in North Wales. There are adventures at Zip World Fforest that will keep the family entertained all day. Take a ride on the Fforest Coaster, it is exhilarating fun and great for children, do some bouncing on Treetop Nets, or take a ride down the zipline if you dare.
Rhos-On-Sea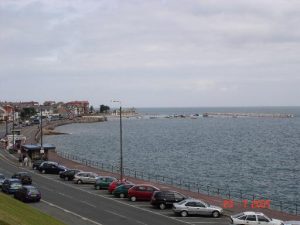 Rhos-On-Sea is another popular seaside town in North Wales with plenty to do when you visit, and will keep you coming back. 
Promenade 
Like many of the towns in North Wales, Rhos-On-Sea has a stunning beach, and a promenade for some picturesque beach side walks and fun. Enjoy your usual beaching activities on the sandy beach, a perfect family friendly day out, especially during the hot weather over summer. 
St Trillos Holy Well 
If you are looking for some history and culture to be added to your trip to Rhos-On-Sea, why not take a visit to the St Trillos Holy Well. Located inside a tiny chapel, the St Trillos Holy Well is named after St Trillo, a 6th century saint from Brittany. St Trillo lived around this site somewhere around 570-590 AD, making this site an interesting historical feature. 
Bryn Euryn Nature Reserve
Do you have a dog? You can bring your furry friend along with you on a trip to the Bryn Euryn Nature reserve In Rhos-On-sea. This site is a much loved walking destination for dog owners, as the area offers fantastic panoramic views of the surrounding area. The reserve consists mainly of woodland and grassland paths and tracks. Part of Bryn Euryn is a site of scientific interest, this is due to it being made up of limestone. 
Caernarfon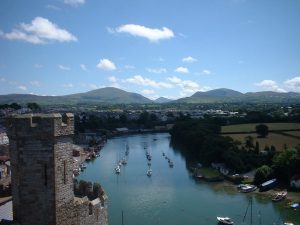 Like Conwy, Caernarfon is a town famous for its history and family friendly activities. It is a medieval town located along the stunning Welsh Coast. 
Caernarfon castle 
Caernarfon Castle is considered one of Wales' most famous castles, and is a UNESCO World Heritage Site. It was built in the 13th century by Edward I, who also built castles in Conwy, Beaumaris and Harlech. You can visit the castle and take a tour around, soaking up the incredible history which surrounds it. 
Caernarfon Fun Centre 
Caernarfon Fun Centre really is a kids dream, the centre is a regular favourite location for children's birthday parties. There is so much to enjoy for the young ones including go karts, laser tag, a giant play area, a mini museum and much more. There is also a Cafe and patio for adults to congregate and watch over their kids as they are enjoying themselves. If you are visiting Caernarfon with children, it really would be a crime not to treat them to a day out at Caernarfon Fun Centre. 
Gelert's Grave 
 In Beddgelert Caernarfon, lies a famous stone monument with a famous story behind it. This monument is known as Gelert's grave. Gelert was a hound of the medieval Prince Llewelyn, also known as Llewelyn the Great. The famous story of Gelert's death is well known around Wales, and is one of tragedy. Prince Llewelyn mistakened Gelert for killing his baby son, as when he returned from a hunting trip, he found his son's cot empty, and Gelert covered in blood. Llewelyn killed his hound, to later find his son safe, and a dead wolf, who Gelert had protected from Llewelyns son. You can visit Gelert's grave and learn more about this famous Welsh story.