Llandudno Shopping Opportunities
The popular seaside town of Llandudno is a much favoured tourist destination for many reasons. For example there are some fantastic walking routes, and fun activities on the Promendade and Llandudno pier. One of the biggest factors that keeps tourists and locals coming back are the shopping opportunities on offer. There are many areas in Llandudno packed full of shops, to cater to all your shopping needs.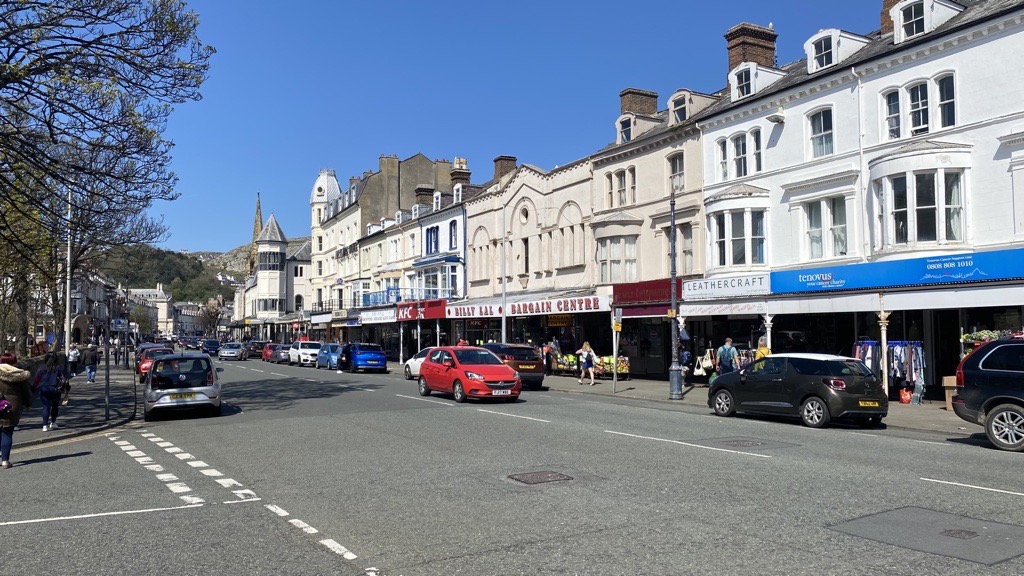 Mostyn Street
Mostyn Street is considered Llandudno's main high street, which runs right through the heart of Llandudno. You will often hear locals dividing Mostyn Street into two sections referred to as 'Upper Mostyn' and 'Lower Mostyn'. Lower Mostyn starts with the popular nightclub in the area called Broadway Boulevard, and ends with the Empire Hotel, at the top of Upper Mostyn. The two parts are separated by a busy roundabout. Some popular shops include Mountain Warehouse if you are the 'outdoorsy' type, Poundland if you are looking to save some money, and the Llandudno Rock Shop if you are craving a sweet treat. There is also a tasty selection of Cafes if you're feeling peckish, such as Cafe Culture, Emjays Cafe and there is also a Starbucks. 
Victoria shopping centre
Located on Mostyn Street, The Victoria Shopping Centre is also an admired location to do your shopping. This indoor shopping centre offers a variety of different outlets, and is perfect if you are trying to hide away from some bad weather. Some examples of the places you can find within the shopping centre include Boots, Specsavers, The Fragrance shop and for the chocolate lovers, a Thorntons. 
Parc Llandudno
 Parc Llandudno is one of two retail parks located in Llandudno, the other is called Mostyn Champneys. Parc Llandudno is the hotspot for clothing stores, due to the vast variety of stores located in the retail park. If you are looking for sportswear or football tops, there is a JD Sports at Parc Llandudno. If you are looking for a new outfit to wear, why not visit River Island, or Primark for those looking for cheaper options. After a long day of browsing and shopping at all the outlets Parc Llandudno has to offer, make sure to sit down and enjoy a nice coffee at Costa. 
You will not have to worry about parking when traveling to Parc Llandudno, the retail park has a massive car park. The car park is open Monday to Sunday all day, and you can park there two hours for free, and pay £2 for an additional hour. 
The most recent addition to this location is the M&S store, having relocated from Mostyn Street. Marks and Spencers is a firm favourite, with visitors and locals alike.
Mostyn Champneys
Mostyn Champneys is the second retail park located in Llandudno, and is right next to Parc Llandudno, not even a two minute walk away. Mostyn Champneys is the ideal shopping destination if you are bringing along children, as there is a Smyths Toy Store with every toy a child could dream of. Another reason why Mostyn Champneys is perfect for children, is due to the McDonalds restaurant which you can smell as soon as you enter the retail park. You can fill up your stomachs after a long day of shopping. There are also more clothing shops including Tk Maxx and there is an Argos, Home Bargains, B&M and much more. 
As well as Parc Llandudno, Mostyn Champneys has its own car park with many spaces. This means it is very rare for there to be no spaces available. On the off chance that you can not find a space, try the Parc Llandudno car park and vice versa. 
Madoc street
Madoc Street is not the most popular destination for shopping in Llandudno, due the lack of options in comparison to other locations such as Mostyn Street and Parc Llandudno. However there are still some shops that may serve you a purpose. Treat your pets to a new toy from The Pet Shop, or you could do some grocery shopping at Londis.