All Weather Itinerary
Have you ever visited somewhere and been disappointed to find the weather has spoiled your trip? Or there were not many activities available when the weather wasn't too great. Luckily you should never experience this problem in Llandudno, you can find something exciting for you and your family whatever the weather in Llandudno.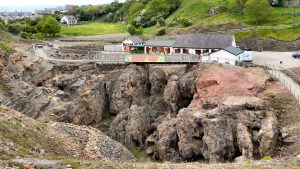 Rainy day/cold
You might be usually put off visiting places during bad or cold weather, due to the lack of options that some locations have on offer for bad weather scenarios. Luckily we have compiled a list of activities that you can do throughout the day in Llandudno, more importantly activities and attractions perfect for those grey and wet days. 
Morning
If it is raining, I'm guessing you will want to be inside, well why not spend the majority of your morning doing just that by taking shelter, popping from shop to shop. You can get away from the bad weather, and treat yourself to some new clothes, or find a gift for a loved one. Both Llandudno retail parks – Parc Llandudno and Mostyn Champneys are perfect for this, as the shops are next door to each other. You could also do your shopping around the Victoria Shopping centre, which is all indoors and features shops such as Boots. 
An alternative if you are too tired to be walking around the shops all morning, is to visit Cineworld in Llandudno junction. Treat yourself and your family to one of the must see new film releases which everyone is talking about. This is a fantastic and entertaining way to grab a couple of hours away from the cold weather. 
Maybe you're looking for a more cultural way to spend your morning in Llandudno, The Great Orme Mines are very popular as an attraction with the locals and tourists. Walk around and learn about what is thought to be the largest prehistoric mine discovered so far in the world, these mines date back to over 4000 years ago!
Another brilliant morning activity if you are in the mood to learn something new, is to visit Llandudno Museum, and soak in some of the history which has made Llandudno the town it is today. Again this activity is ideal for bad weather days as you will be sheltered inside whilst enjoying some culture with your family. 
Lunch 
After a busy morning, you are going to need to refresh yourselves with a quick bite to eat or a hot drink. There are plenty of fantastic places around Llandudno to grab lunch, and sit inside away from the bad weather. Why not try some popular places such as Characters or The Loaf, which have plenty of options to choose from, great for any fussy kids you might have with you. There are also great cafes around Llandudno such as Starbucks, where you can grab yourself a warm drink and something to eat.
Evening 
If you are someone who is big into their musicals and theatre shows, then an evening spent in Venue Cymru might be right up your street. There are lots of shows every day and evening, some family friendly shows for the kids, and some shows catered more towards adults. You can browse which shows are on and the showing times on their website. 
After a long day exploring the incredible attractions and activities that Llandudno has to offer, you are going to need to fill your stomachs, and there are plenty of tasty venues to do just that. If you are looking for a place on a more luxurious scale, why not visit Indulge or The Seahorse Restaurant. More family friendly places with better options for children could include Johnny Doughs, who make delicious wood fired pizza, or Harveys, who specialise in New York Diner style food. 
A whisky tasting session at Penderyn Whisky Distillery, will offer a fantastic and romantic date night idea for you and your partner, looking to spend some quality time with each other. Or maybe you are simply a fan of whisky, and are looking to try some local Welsh whisky for yourself. This activity might be something new for you to try, nothing will warm up your stomachs more on a cold day than a glass of fine whisky. 
Hot day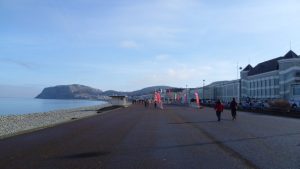 If you are visiting Llandudno during nice weather, perhaps on a warm summer's day, then you will be eager to take advantage of the clear skies, and explore Llandudno and all its beauty. The landscape surrounding Llandudno is staggering, making for some fantastic walking days out, and some incredible photo opportunities. There are also plenty of activities for you to try to truly take advantage of the nice weather. 
Morning
One of the best ways to enjoy hot weather in Llandudno, and is relatively cost free, is to take a walk along Llandudno Promenade and Llandudno Pier. Grab an ice cream as a sweet treat to cool yourself down, and have a browse through the stalls, or have some family fun at the arcades on the pier. 
Keeping along with the walking theme, another place you might want to visit while you are in Llandudno is The Great Orme. The Great Orme offers a beautiful and picturesque walking route which will be sure to provide you with some stunning views and scenery of the local landscape. These views are particularly great once at the summit, where you can see for miles on a clear day. Why not bring a picnic with you for you to enjoy your breakfast whilst taking in the incredible surroundings. Whilst walking up the Orme, you are likely to encounter the notorious and famous Llandudno Goats, who were made famous during the Covid-19 lockdowns as they wandered from the hills, into the then lifeless Llandudno Town.
Are you or members of your family animal lovers ? Then you might be interested in taking a visit to Bodafon Farm. Bodafon Farm is a working farm which is open to the general public, and is home to the Owls Trust, where you can take a look at a beautiful collection of these magnificent birds. This attraction is fantastic for a family day out, and one which will go down a treat with the children, they can even embark on a tractor and trailer ride around the farm. 
Perhaps an attraction for the thrill seekers out there looking to have some fun, Llandudno's Snowsports Centre is full of fantastic activities for you and your family to enjoy a morning to remember. Some activities that you can enjoy include Alpine Golf, which is a mini golf course, Tobogganing and tubing, and skiing. There is also a bar and kitchen where you can grab a drink or a bite to eat. 
Lunch 
On a hot day you might as well make the most out of the sunshine, and join hundreds of tourists outside for your lunch. Why not grab some fish and chips and head down to the beach or the promenade. Choose from a number of delicious fish and chip takeaways, including Tribells on Lloyd Street or Barnacles Fish & Chips on Mostyn Street. Be sure to watch out for the seagulls, they can be a nightmare when you are eating outside. 
Nothing says hot weather like sitting in a beer garden with an ice cold beer or glass of lemonade, treating yourself to a refreshment after a busy morning. Some fantastic and popular beer gardens in Llandudno include the Kings Head, and The Cottage Loaf. They even have large umbrellas to keep you in the shade if need be. 
This is one for the children and the Alice In Wonderland lovers, explore the Alice In Wonderland trail in the sunshine. You can purchase a map of the trail and souvenir guide from the tourist information centre, and then embark on your very own Alice in Wonderland adventure, where you can find a number of statues dotted around the town.
Evening 
If you have been particularly busy and productive throughout the day, the evening is your chance to cool off and relax, and what better way to do so than enjoying a few cocktails. Have a laugh with some friends or family, or treat your partner to a romantic night with a Pina Colada. Some of the best places for cocktails in Llandudno include The Gresham and Indulge. 
Llandudno is also a very popular location due to its nightlife, with a rich variety of pubs and clubs. If you are a party animal looking to enjoy a dance and some music, then why not visit clubs such as Club 147, Fountains or perhaps the most popular night club in Llandudno – Broadway Boulevard. These establishments are thriving with people and are very popular during the summer months. Bearing in mind some of the clubs are more aimed towards the younger generation, but certainly can be enjoyed by everyone. 
Perhaps you are looking for a more relaxed and quiet end to your day, with a gentle evening stroll along the prom or pier. An evening walk in Llandudno can be very romantic, and is more ideal if the weather is warm.