Golf in Llandudno
Are you a keen golfer? Take a visit to Llandudno and explore the different golf courses available to test your golfing skills. Here you will be able to discover all the information you need to decide which golf club or course is of best interest. You can find the addresses, the Par of each course, the course types and the number of holes on each course. Golf is extremely popular in Llandudno and in North Wales, people travel far to come to the Golf clubs around Llandudno.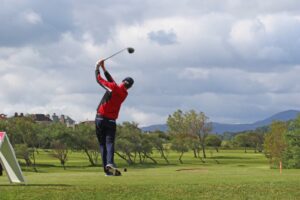 The Clubs
First of all, there are two golf clubs in Llandudno itself. These are Maesdu Golf Club and North Wales Golf Club. There is also a golf course on the Great Orme, which does not belong to a particular golf club. Just outside Llandudno only a ten-minute drive away, you can also find Conwy Golf club and Rhos-on-Sea Golf Club. Some of these golf clubs have won some amazing awards and have rich and interesting histories. For example, Conwy Golf club proudly hosted the 2021 Curtis Cup, which is a lady's golf tournament, and won Welsh golf club of the year back in 2007. North Wales Golf Club won the Wales Club of The Year award in 2010.
The Views
The beauty of all the Golf clubs in and around Llandudno, is the incredible course views that you encounter whilst playing the sport. It is worth visiting these courses just to experience the views alone. Maesdu and North Wales Golf Club offer stunning views of the North Wales coastline, perfect for great photo opportunities. Whilst playing on Conwy Golf Club's course, you can expect unbelievable views of the mountains and again picturesque scenes from the coastline.
Clubhouses and Shops
These Llandudno based golf clubs also have club shops, where you can buy everything you need if you are new to golf, such as golf clubs, golf balls, golfing gear etc. They also have clubhouses, where you can socialise and grab a drink or something to eat after a session. These clubhouses are often the destination for events and parties, clubs such as Conwy Golf Club can allow you to hire their clubhouse facilities for special purposes. These courses, especially during the summer can be fully booked, so make sure to book ahead in advance if you are planning a few rounds of golf, especially during the summer.
Course Details
| | | | | |
| --- | --- | --- | --- | --- |
| Golf Club | Par | Number of Holes | Course type | Address |
| Maesdu | 72 | 18 | Parkland/Links | Hospital Road, LL30 1HU |
| North Wales | 71 | 18 | Links | West Shore at 72 Bryniau Road LL30 2DZ |
| Conwy | 72 | 18 | Links | Beacons Way, Conwy LL32 8ER |
| Rhos-on-Sea | 69 | 18 | Parkland | Glan-y-Mor Road, Penrhyn Bay, Llandudno LL30 3PU |
| Great Orme course | 3  | 9 | Pitch and putt | Great Orme, LL30 2QF |
 As you can see Rhos-on-Sea Golf Club has the lowest par. The club's website states that the course is a 'fair challenge to the average golfer'. At Rhos-on-Sea Golf Club, you can often see golfers with a lower handicap.
You can find pricing information and membership costs on each of the Golf Clubs websites.