Llandudno beaches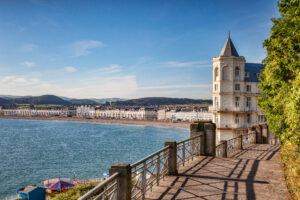 The North Wales town of Llandudno is very popular with the locals and a favourite tourist destination. One of the reasons for its popularity is due to the coastline's amazing beaches and bays, fantastic for a family day out with lots of attractions and activities to choose from. You can find West Shore, North Shore (also known as Llandudno Beach) and Angel Bay a short drive over the Little Orme. If you are traveling, a quick ten-minute drive away is the stunning Conwy Morfa Beach, or Colwyn Bay beach.
West Shore
West Shore is a very sandy beach, best exposed during low tide times where you can perform all the usual and exciting beaching activities such as building sandcastles and flying kites. West Shore is genuinely considered to be a lot quieter than Llandudno's North Shore. You can also find a Café if you fancy a coffee or a bite to eat, if you are to visit the West Shore, there are some things you should keep in mind, there is no lifeguard on the beach so reading the safety signs is recommended. The area is also thriving with Seagulls who can become a nuisance if you have food, and it is strongly advised not to feed them.
North Shore
Unlike West Shore, Llandudno Beach or North Shore is known for being less quiet with much more activity taking place. The beach runs alongside Llandudno promenade, on the east side of the promenade, you can find a play area and paddling pool as well as live music and shows. This makes the North Shore an ideal place to bring children. Both the North and West Shore are situated in-between the Great Orme and Little Orme. You can also find the Llandudno pier on the North Shore, where you can find fun filled arcades, or you can grab an ice-cream.
Angel Bay
Angel Bay is located just over Llandudno's Little Orme along the coastline between Rhos-on-Sea and Llandudno itself. Angel Bay is a popular walking destination for tourists and locals as it can provide you with the most spectacular views, capturing North Wales in all its glory. However, perhaps the most popular factor that brings people to the Bay, is the rare opportunity to spot seals down on the rocks. Many people will not often get the opportunity to admire these amazing creatures, but please do your best to not disturb them and leave them alone. You are unable to go down to the beach during winter, when the seal colony is present.
These popular beaches are the perfect destinations and must visit areas if you are traveling to North Wales. They are the ideal child friendly locations for a hot day during the summer holidays, you will often find the beaches packed with people on hot summer days.