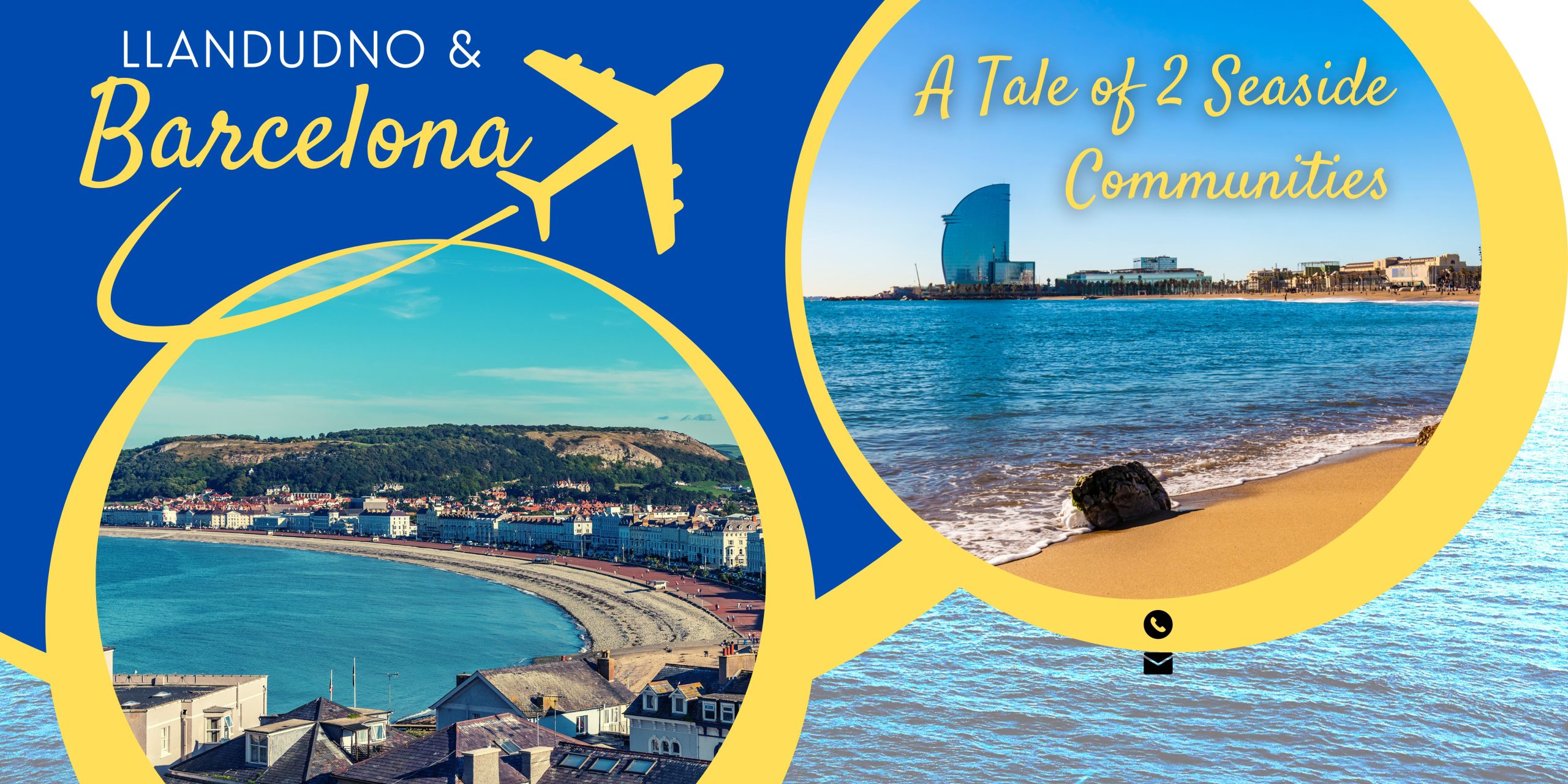 In the depths of our Welsh Winter, we sent 2  members of the Llandudno.com team to Barcelona in order to scope out this incredible seaside town, to see if they could learn anything about what makes this fellow seaside community such an amazing place.
"During their time there I was struck that while there are overwhelming differences between the two different kinds of communities, there is this intrinsic undercurrent of the perennial aspect of being a 'seaside community. Sure, one of these is on the icy Irish sea, and the other the sunkissed Mediterranean – but was there any common ground at all? 
As denizens of Llandudno, commonly known as the queen of Welsh Resorts, we swapped the iconic view of the famous Kashmiri goat's Great Orme for Gaudi's Sagrada la Familia, to find out. "
When comparing two seaside communities, Barcelona, Spain and Llandudno, Wales, there is a multitude of similarities and differences to be discovered. From the bustling tourism industry in Barcelona to the quaint and quiet charm of Llandudno, there is something for everyone. In this blog post, we will explore how these two seaside communities compare when it comes to their climate, tourism industry, and how they were impacted by the Covid-19 pandemic. We'll also look at the unique features that make these two places so special in their ways.
An Introduction to Seaside Communities
The ocean has always held a great allure for those looking to escape from the hustle and bustle of everyday life, and this is reflected in the popularity of seaside communities. From stunning coastal views to delicious seafood and lively nightlife, seaside communities offer something for everyone. Barcelona, Spain and Llandudno, Wales are two such examples of spectacular seaside towns that have flourished over the years, each with its unique charm and character.
Barcelona is the capital of Catalonia, located on the northeast coast of Spain. It is renowned for its beautiful Mediterranean beaches, vibrant culture, and cutting-edge architecture. The city has a rich history and boasts a plethora of attractions including world-class museums, fascinating historical sites, and delicious cuisine.
Llandudno is a Victorian resort town on the north coast of Wales. It is famed for its breathtaking scenery and leisurely atmosphere. The town is filled with Victorian buildings, stylish boutiques, and quaint cafes which give it a unique character. It's also home to some of the best beaches in Britain, making it a popular destination for locals and tourists alike.
Both Barcelona and Llandudno are special places that attract visitors from around the world. Their seaside locations make them ideal for vacationers looking to relax and explore. Both cities have their distinct personalities and offer something for everyone. Whether you're looking for an exciting cultural experience or a tranquil beach vacation, these two locations provide both.
A Comparison of Barcelona, Spain and Llandudno, Wales
When it comes to seaside communities, Barcelona, Spain and Llandudno, Wales have plenty of similarities. Both cities are located on the Mediterranean and Irish Seas respectively, creating a beautiful backdrop for their respective coasts. Furthermore, both cities have historic architecture, bustling nightlife and a wide variety of shopping and dining options.
Despite their many differences, Barcelona and Llandudno are also alike in that they both rely heavily on the tourism industry. In recent years, Barcelona has seen an influx of visitors from around the world, due to its picturesque coastline and proximity to major attractions such as the Sagrada Familia. Similarly, Llandudno's popularity as a tourist destination has grown over the years, as visitors flock to its Victorian pier, beachfront promenade and breathtaking views of Snowdonia.
The global pandemic had an impact on both Barcelona and Llandudno's tourism industries. During the lockdowns, both cities experienced a drastic decrease in visitors and had to implement new safety protocols to ensure that everyone was following the necessary health guidelines. 
In terms of climate, Barcelona and Llandudno have some distinct differences. Barcelona enjoys mild winters with temperatures rarely falling below freezing, while Llandudno can experience sub-zero temperatures and snow during the winter months. Summertime in Barcelona is hot and dry, with temperatures reaching up to 35 degrees Celsius (95 degrees Fahrenheit). Meanwhile, Llandudno's summers are milder with average temperatures of around 20 degrees Celsius (68 degrees Fahrenheit). 
Overall, Barcelona and Llandudno share many similarities as well as notable differences. While they have different climates and have been impacted differently by Covid-19, their coastal locations, vibrant culture and heavy reliance on the tourism industry connect them as two of the world's most popular seaside communities.
The Tourism Industry in Barcelona and Llandudno
The seaside cities of Barcelona, Spain and Llandudno, Wales have been popular tourist destinations for many years. Both places boast stunning beaches, beautiful architecture, and a wealth of cultural activities. Barcelona, the second largest city in Spain, is well known for its Gaudi architecture and vibrant nightlife. Meanwhile, Llandudno is a charming Victorian seaside resort town with a sweeping promenade and views of the majestic Snowdonia Mountains. 
Both cities have developed thriving tourism industries over the years, although they differ in some respects. For example, Barcelona is a major destination for international travellers looking for a cosmopolitan city experience, while Llandudno is a smaller seaside resort town that attracts more domestic tourists from England and Wales. In terms of business travel, Barcelona has a strong presence in the corporate sector due to its numerous convention centres and exhibition venues. On the other hand, Llandudno is more focused on leisure and vacation trips.
The Climate of Barcelona and Llandudno
The Mediterranean climate of Barcelona, Spain, and the coastal climate of Llandudno, Wales, have many similarities and differences. Barcelona enjoys mild winters and warm summers with temperatures averaging between 10-23°C. Its proximity to the Mediterranean Sea also provides a significant source of moisture in the form of rain and snow. In contrast, Llandudno has a much cooler climate, with temperatures ranging between 4-18°C. This coastal region receives abundant rain throughout the year.
Both Barcelona and Llandudno are susceptible to flooding due to their coastal locations and proximity to the sea. To protect its coastal areas from the potential damage caused by flooding, Barcelona has recently implemented comprehensive flood defences along its coastline. Meanwhile, Llandudno's flood defences have been updated in recent years to adapt to the increasing sea level as a result of climate change. Both cities have also undertaken projects to manage coastal erosion which threatens both their coasts.
How Covid-19 Affected Barcelona and Llandudno
As much of the world experienced in 2020, Barcelona and Llandudno were both greatly affected by the global pandemic. Both cities faced severe challenges due to the lockdown measures taken by their respective governments, with closures of hotels, restaurants, shops, and tourist attractions. 
In Barcelona, the Catalan government declared a state of alarm on March 14th, 2020. All non-essential businesses were closed and people were only allowed to go out for essential tasks. This caused a drastic decline in tourism which had a huge impact on the local economy. The Catalan government implemented a series of economic relief plans and grants to help businesses survive during the pandemic. 
Llandudno was also impacted by Covid-19, as all non-essential businesses were closed in Wales from November 2020. Restrictions were gradually lifted as the pandemic progressed, but the hospitality sector was badly affected, with hotels and restaurants struggling to stay open. The Welsh government introduced financial support for businesses, such as grants and loans, to help them cope with the pandemic's effects. 
Now that the pandemic is over, both locations have started to recover, although they are still feeling the effects of the virus. Tourist numbers are slowly returning in Barcelona, with many attractions reopening. In Llandudno, restrictions are beginning to ease and businesses are slowly returning to normal operations. 
Overall, both cities have shown resilience in overcoming the challenges of the pandemic and are now well on their way to recovery. With more support from their respective governments and further easing of restrictions, they will likely continue to rebound in 2023.
Life by the Sea
Living by the sea has its special appeal, with a certain calming energy that draws many people to the coast. Whether it is the salty air, beautiful sunsets, or the gentle sound of waves lapping against the shore, there is something truly magical about living on the coastline. Not only do seaside communities offer breathtaking views and an abundance of maritime opportunities, but they have also shaped history and culture throughout the centuries.
One of the most unique aspects of living by the sea is the calming effect it can have on the mind and body. This concept is known as 'Blue Mind' theory, which suggests that people who live near bodies of water experience a greater sense of well-being and happiness than those who don't. The popular science book, 'Blue Mind' by Wallace J. Nichols explains how access to nature, particularly water, can reduce stress levels, improve cognitive performance and even help with managing depression and anxiety.
Living by the sea offers so many wonderful benefits, making it no wonder why so many people love to call a coastal community home. With access to outdoor activities such as swimming, sailing, fishing and other watersports, there is no shortage of things to do in a seaside town.
No matter where you live, living by the sea can be a truly rewarding experience. With its calming energy and plethora of activities to enjoy, it's easy to see why so many people love to live by the sea. So who can blame the ancestors of the people of Llandudno and Barcelona for making their home there?
Summary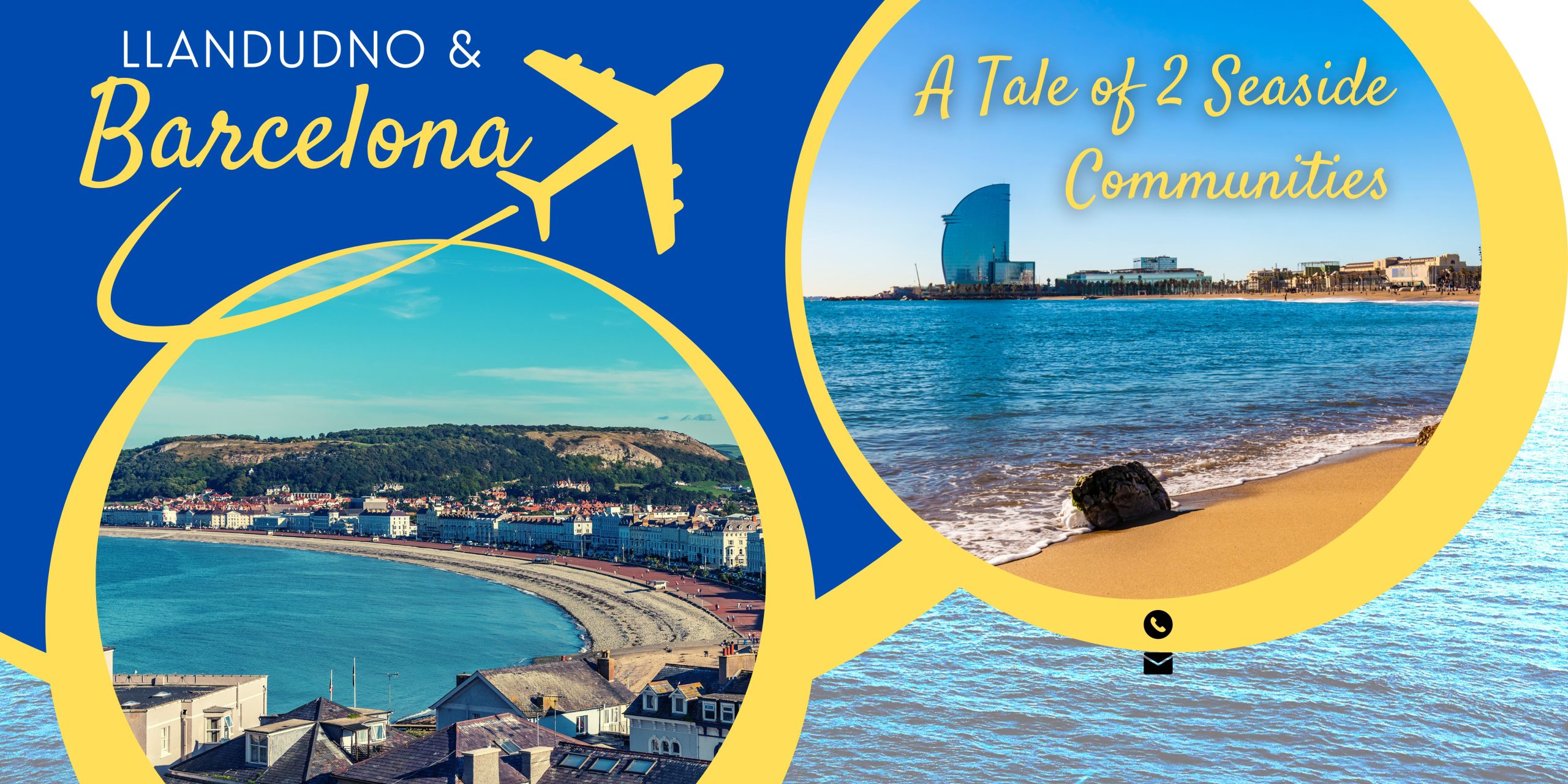 Article Name
Seaside Communities: Barcelona & Llandudno
Description
Two of the livetech crew were at a loose end during the Christmas holidays, and was in search of an adventure, after scoping out potential flight options, we decided to head out to Barcelona. During my time there I was struck that while there are overwhelming differences between the two different kinds of communities, there is this intrinsic undercurrent of the perennial aspect of being a 'seaside community. Sure, one of these is on the icy Irish sea, and the other the sunkissed Mediterranean - but was there any common ground at all? 
Author
Publisher Name
Publisher Logo