The Elm Tree, Llandudno is a true example of luxury accommodation, tastefully decorated affording an exclusive seafront location with wonderful sea views.
Set in a whitewashed Victorian building, this relaxed, adults-only hotel is across the street from Llandudno Bay. It's 4 minutes' walk from Llandudno Pier, 5 minutes' walk from the Great Orme Tramway and 0.9 miles from entertainment at Venue Cymru.
Are you looking for a chance to escape the hustle and bustle of everyday life and find a sense of balance and peace? Look no further than the Elm Tree Hotel Llandudno, a hidden gem situated on the North Wales coast. With its stunning views of the Irish Sea, peaceful gardens, and homely atmosphere, the Elm Tree Hotel offers a truly unique experience for those who seek a little time away from it all – it's one of the best of Llandudno hotels available. 
About the hotel
The Elm Tree Hotel in Llandudno is the perfect place to unwind and enjoy a unique experience. Voted as the UK's #1 'Best Service' as well as the #2 'Most Romantic' hotel, this adult-only establishment offers exceptional standards and realistic prices.
With 14 well-appointed rooms, guests can enjoy luxurious accommodations with spectacular views of Llandudno Bay. For relaxation, the beautifully decorated private lounge or landscaped terrace garden offers breathtaking views and scenery. Guests can also enjoy a private open bar for socialising over drinks or tea/coffee.
When booking at The Elm Tree, all reservations are made directly via email or phone, to ensure your stay is as personalised as possible. So come to The Elm Tree and make some fond memories!
Local events, entertainment and activities
Llandudno is not just a great spot for a summer holiday. It also has plenty of activities and events all year round that locals and visitors alike can enjoy. During the warmer months, there are lots of outdoor activities such as walking, cycling, water sports, and golfing. The town is also home to a variety of cultural events and festivals such as The Wales International Jazz Festival, the Llandudno Arts Festival, and the Llandudno Music Festival. If you're looking for something more sedate, why not visit one of the area's many galleries and museums, or take a leisurely stroll along the promenade? There are also plenty of opportunities for shopping, with boutique stores and larger retailers to suit every taste. And if you're in town for the festive season, be sure to check out the Llandudno Christmas Market. No matter when you visit, you're sure to find something to keep you entertained in Llandudno.
Concierge Services
The Elm Tree Hotel Llandudno is dedicated to providing guests with useful information and suggestions on unique services and places of interest in and around the area. We have partnered up with a variety of local businesses to provide exclusive discounts and/or special offers at certain times of the year. 
Breakfast & Dining
The Elm Tree accommodation rate includes breakfast, served between 8:30am and 9:30am in our well-appointed dining room overlooking the Llandudno Bay. The Elm Tree 'signature' breakfast is well known for its vast selection of freshly cooked hot items, most of which are sourced locally and cooked to order. In addition, guests may enjoy a cold buffet of fresh fruits, cereals, fruit juices, welsh cakes and croissants.
Self-service 'speciality coffees' are available at a nominal charge throughout the day and drinks/refreshments from the very popular honesty bar.
For lunch or dinner, you will be spoilt for choice from the wide selection of Llandudno's superb restaurant options. Our concierge service can provide all the details to help you find the perfect spot to meet your culinary desires. Whether it's a romantic meal for two in a fine-dining setting, a family-friendly pub grub or a light snack before heading out to explore the town; the options are endless. And all just a short stroll away from The Elm Tree!
Summary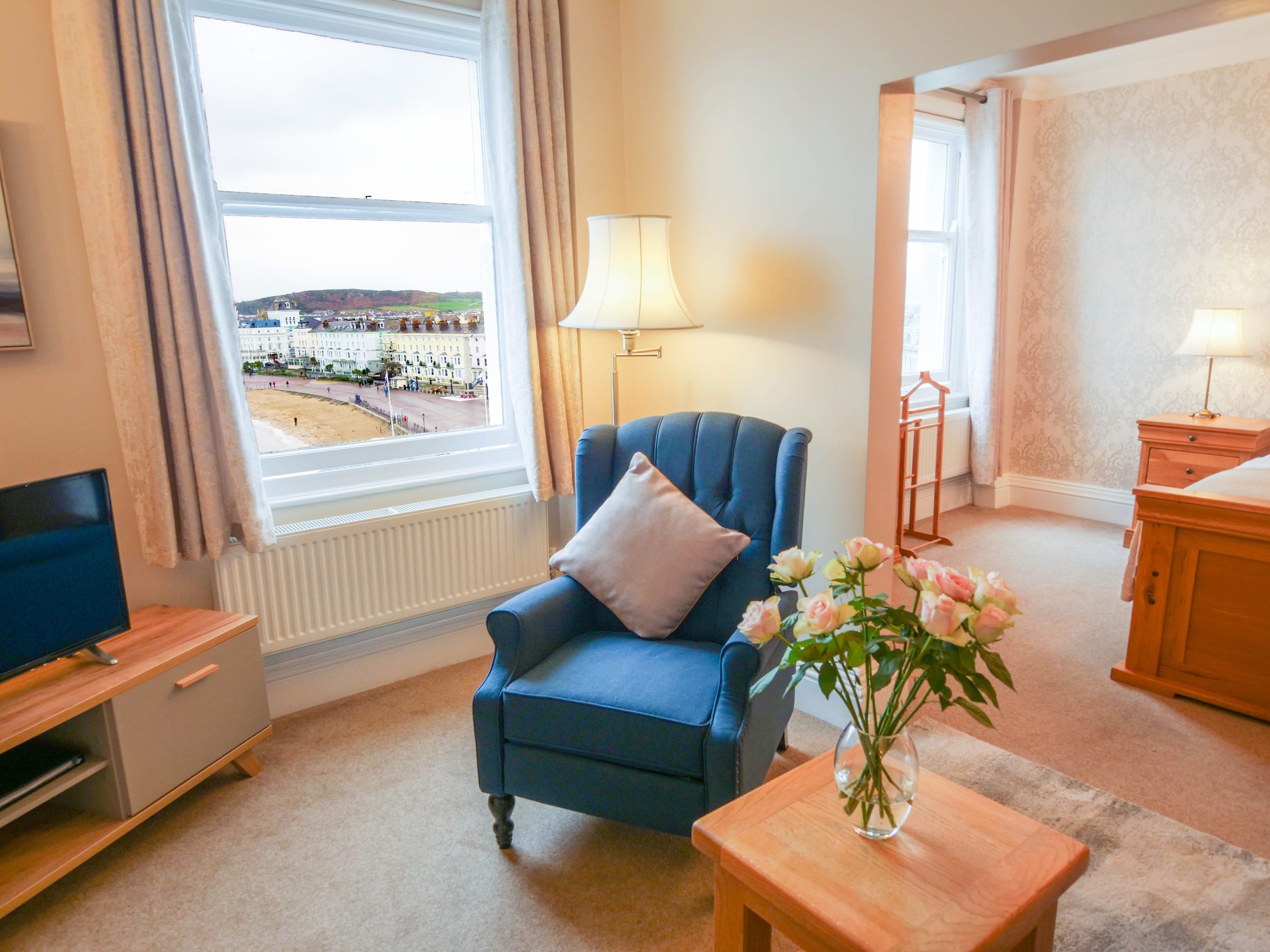 Article Name
Description
The Elm Tree, Llandudno is a true example of luxury accommodation, tastefully decorated affording an exclusive seafront location with wonderful sea views.
Author
Publisher Name
Publisher Logo