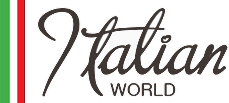 Authentic Italian Gifts
Italian World is a family-fun shopping experience that is based in Llandudno. Offering plenty of genuine Italian hand crafted gifts and homewares with authenticity, beauty and function in mind, all chosen from Ellen who has been visiting Italy for many years.
Italian World started as an online retailer for customers worldwide and due to their thriving success they also have a busy shop in the heart of Llandudno allowing locals to purchase unique and special gifts from the best Italian workshops and master craftsmen, without even having to leave the sofa. Each piece comes with a story of the craftsmen, who Ellen knows very well and they often make special Italian World branded pieces for her shop.
Products include:
Glass items
All glassware has a wonderfully striking colour which adds to the beauty and adds a unique touch to every single one. The intricacies of the designs add to the appeal of these Italian glass gifts including beautiful miniature bottles, ornaments and glassware.
Ceramics
Ceramics including items such as tableware, vases, wall decorations, serveware and ovenware are all perfect for home décor or to be given as gifts. Each ceramic item is unique to each other with its hand painted, colourful designs, typical of Italian design, adding originality to every piece.
Jewellery
Italian World's jewellery has a range of different designs from glass beads to pendants. Their glass pendant jewellery is hand made in Murano, made from well sought after Italian Murano glass. All featuring a bespoke pendant charm, with every one unique to eachother.
Venetian Masks
The range includes traditional full face and half face masquerade masks and Venetian eye masks, all with the best quality materials in beautiful colours and styles. Using inspiration of the past in Venice these ceramic and papier-mâché masks made from silk and golden leaf supply enriched decorations that are inspired but the fantasy of the artisans. In Venice, masks have always had a great importance through the years, but Venetian Masks achieve the biggest expression during the period of carnival in February where history and fantasy melt in perfect harmony.
Inlaid Wood
Inlaid Wood items include unusually shaped jewellery boxes and music boxes. Each one features hand decorated inlaid, intricate designs typical of the Italian style all originating from Sorrento in Italy. With multi coloured designs and soft velvet interior these boxes are ideal as presents for all occasions.
Each product in the shop has been chosen with care and with practicality in mind making for a wonderful shopping experience knowing you will have something truly unique and original.
---
Address:
Italian World, 19 Mostyn Street,
Llandudno, Conwy, LL30 2NL
Phone:
+44 (0) 1492 860404
+44 (0) 7786 351046
Email:
[email protected]